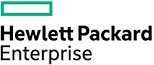 HP 2615 Switch Series

Fixed Port L3 Managed Ethernet Switches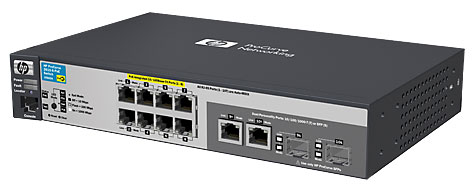 Sorry, this product is no longer available, please contact us for a replacement.
Overview:
The HP 2615 Switch Series provides simple, cost-effective, and reliable access-layer connectivity for enterprises, branch offices, and SMBs. This compact and quiet 8-port, fully managed, Basic Layer 3 Fast Ethernet switch with PoE is ideal for deployment in acoustically sensitive environments.
A robust Basic Layer 3 feature set supports static and RIP routing, sFlow, ACLs, rate limiting, IPv6, and PoE. The switch is easy to use and deploy, supports PoE devices, and can be managed with the HP Intelligent Management Center (IMC) Software for a single view of your entire network.
A summary of the highlights of the 2615 Switch Series:
Scalable 10/100 connectivity
L2 and L3 switching capabilities
sFlow, ACLs, and rate limiting
Energy-efficient design and quiet operation
Rack-mountable, compact form factor
Features & Benefits:
Compact and Reliable Fast Ethernet Access Layer Switch with PoE
The HP 2615 Switch Series provides simple, cost-effective, and reliable access layer connectivity for enterprises, branch offices, and small-to mediums sized-businesses (SMBs).
This compact and quiet 8-port fully managed Basic Layer 3 Fast Ethernet switch with PoE is ideal for deployment in open areas, offices, and environments with limited space or are acoustically sensitive.
Robust Basic Layer 3 feature set includes support for static and RIP routing, sFlow, ACLs, rate limiting, IPv6, and PoE.
Eight Fast Ethernet PoE ports with two additional dual-personality Gigabit Ethernet ports provide copper or SFP connectivity for a total of ten ports.
Single view of the entire network with the optional HP Intelligent Management Center (IMC) Software.
Security and Quality of Service (QoS)
The HP 2615 Switch supports flexible authentication methods including Local MAC, 802.1X, and MAC and Web for greater policy-driven application security.
Advanced denial of service (DOS) protection, such as DHCP, Dynamic ARP, and Dynamic IP lockdown, and flexible traffic controls including ACLs and QoS.
Traffic prioritization with IEEE 802.1p allows real-time traffic classification with support for eight priority levels mapped to two or four queues.
Rate limiting and flow control help provide reliable communications.
Defend your IPv6 network with DHCPv6 Protection.
Simple Deployment and Management
The HP 2615 Switch Series supports a choice of management interfaces with Web GUI, CLI, and SNMP.
The HP 2615 Switch Series can be seamlessly managed with the optional HP Intelligent Management Center (IMC) Software to provide end-to-end network transparency with consistent network experience through comprehensive configuration, compliance and policy management.
RMON and sFlow provide advanced monitoring and reporting capabilities for statistics, history, alarms, and events.
Compact and fanless for quiet and unobtrusive operation in open spaces, conference rooms, and offices. Flexible deployment with wall, table, and rack mounting options.
Convenient LEDs provide quick status of fault and power as well as per port status of activity, speed, and full-duplex operation.
Specifications:

HP 2615-8-PoE Switch (J9565A)
Ports
8 RJ-45 autosensing 10/100 PoE ports (IEEE 802.3 Type 10BASE-T, IEEE 802.3u Type 100BASE-TX, IEEE 802.3af PoE); Media Type: AutoMDIX; Duplex: half or full
2 dual-personality ports; each port can be used as either an RJ-45 10/100/1000 port (IEEE 802.3 Type 10Base-T; an IEEE 802.3u Type 100Base-TX; an IEEE 802.3ab 1000Base-T Gigabit Ethernet); or an SFP slot (for use with SFP transceivers)
1 RJ-45 serial console port
Physical characteristics
Dimensions
10(w) x 6.28(d) x 1.75(h) in (25.4 x 15.95 x 4.45 cm) (1U height)
Weight
Weight 3.66 lb (1.66 kg) including power adapter and power cord
Memory and processor
Processor
Freescale PowerPC 8313 @ 333 MHz, 32 MB flash, 128 MB DDR2 SDRAM; packet buffer size: 512 KB dynamically allocated
Mounting
Mounts in an EIA-standard 19-inch telco rack or equipment cabinet; horizontal surface mounting; wall mounting
Performance
100 Mb Latency
< 5.3 µs (LIFO 64-byte packets)
1000 Mb Latency
< 2.7 µs (LIFO 64-byte packets)
Throughput
4.1 million pps
Switching capacity
5.6 Gbps
MAC address table size
8000 entries
Environment
Operating temperature
32°F to 113°F (0°C to 45°C)
Operating relative humidity
15% to 95% @ 104°F (40°C), noncondensing
Nonoperating/Storage temperature
-40°F to 158°F (-40°C to 70°C)
Nonoperating/Storage relative humidity
15% to 95% @ 149°F (65°C), noncondensing
Altitude
up to 10,000 ft. (3 km)
Acoustic
Power: 0 dB, Pressure: 0 dB
Electrical characteristics
Description
Use only the external power adapter module (5070-6082, PA1 AC adapter) supplied with this product
Maximum heat dissipation
87 BTU/hr (91.79 kJ/hr)
Voltage
100-240 VAC
Current
1.5 A
Idle power
11 W
Maximum power rating
86 W
PoE power
67 W
Frequency
50/60 Hz
Notes
Idle power is the actual power consumption of the device with no ports connected.; Maximum power rating and maximum heat dissipation are the worst-case theoretical maximum numbers provided for planning the infrastructure with fully loaded PoE (if equipped), 100% traffic, all ports plugged in, and all modules populated.; PoE power is the total power budget available to all PoE ports.
Safety
cUL (CSA 22.2 No. 60950); CE Labeled; UL 60950-1; UL Listed; CAN/CSA 22.2 No. 60950; EN 60825; AS/NZS 60950; IEC 60950-1; EN 60950-1
Emissions
FCC part 15 Class A; VCCI Class A; EN 55022 Class A; CISPR 22 Class A; ICES-003 (Canada); AS/NZS CISPR 22; IEC/EN 61000-3-2; IEC/EN 61000-3-3; IEC 61000:4-2, 4-3, 4-4, 4-5, 4-6, 4-8, 4-11
Immunity
Generic
EN 55024, CISPR 24
EN
EN 55024, CISPR 24
ESD
IEC 61000-4-2
Radiated
IEC 61000-4-3
EFT/Burst
IEC 61000-4-4
Surge
IEC 61000-4-5
Conducted
IEC 61000-4-6
Power frequency magnetic field
IEC 61000-4-8
Voltage dips and interruptions
IEC 61000-4-11
Harmonics
EN 61000-3-2, IEC 61000-3-2
Flicker
EN 61000-3-3, IEC 61000-3-3
Management
HP PCM+; HP PCM (included); command-line interface; Web browser; configuration menu; out-of-band management (serial RS-232C); IEEE 802.3 Ethernet MIB; Repeater MIB; Ethernet Interface MIB
Standards and protocols

Denial of service protection
Automatic Filtering of well known Denial of Service Packets

Device management
RFC 1591 DNS (client)
Multiple Configuration Files
Multiple Software Images
SSHv1/SSHv2 Secure Shell
TACACS/TACACS+
Web UI

General protocols
IEEE 802.1D MAC Bridges
IEEE 802.1p Priority
IEEE 802.1Q VLANs
IEEE 802.1s Multiple Spanning Trees
IEEE 802.1w Rapid Reconfiguration of Spanning Tree
IEEE 802.3 Type 10BASE-T
IEEE 802.3ab 1000BASE-T
IEEE 802.3ad Link Aggregation Control Protocol (LACP)
IEEE 802.3af Power over Ethernet
IEEE 802.3u 100BASE-X
IEEE 802.3x Flow Control
RFC 768 UDP
RFC 783 TFTP Protocol (revision 2)
RFC 792 ICMP
RFC 793 TCP
RFC 826 ARP
RFC 854 TELNET
RFC 868 Time Protocol
RFC 951 BOOTP
RFC 1058 RIPv1
RFC 1350 TFTP Protocol (revision 2)
RFC 1723 RIP v2
RFC 1812 IPv4 Routing
RFC 2030 Simple Network Time Protocol (SNTP) v4
RFC 2131 DHCP
RFC 2453 RIPv2
UDLD (Uni-directional Link Detection)

IP multicast
RFC 3376 IGMPv3 (host joins only)

IPv6
RFC 1981 IPv6 Path MTU Discovery
RFC 2460 IPv6 Specification
RFC 2925 Remote Operations MIB (Ping only)
RFC 3315 DHCPv6 (client only)
RFC 3513 IPv6 Addressing Architecture
RFC 3596 DNS Extension for IPv6

RFC 4022 MIB for TCP
RFC 4113 MIB for UDP
RFC 4251 SSHv6 Architecture
RFC 4252 SSHv6 Authentication
RFC 4253 SSHv6 Transport Layer
RFC 4293 MIB for IP
RFC 4419 Key Exchange for SSH
RFC 4443 ICMPv6
RFC 4861 IPv6 Neighbor Discovery
RFC 4862 IPv6 Stateless Address Auto-configuration

MIBs
RFC 1213 MIB II
RFC 1493 Bridge MIB
RFC 2021 RMONv2 MIB
RFC 2613 SMON MIB
RFC 2618 RADIUS Client MIB
RFC 2620 RADIUS Accounting MIB
RFC 2665 Ethernet-Like-MIB
RFC 2668 802.3 MAU MIB
RFC 2674 802.1p and IEEE 802.1Q Bridge MIB
RFC 2737 Entity MIB (Version 2)
RFC 2863 The Interfaces Group MIB

Network management
IEEE 802.1AB Link Layer Discovery Protocol (LLDP)
RFC 1098 A Simple Network Management Protocol (SNMP)
RFC 2819 Four groups of RMON: 1 (statistics), 2 (history), 3 (alarm) and 9 (events)
RFC 3176 sFlow
SNMPv1/v2c/v3

QoS/CoS
RFC 2474 DiffServ precedence, with 4 queues per port
RFC 2475 DiffServ Architecture
RFC 2597 DiffServ Assured Forwarding (AF)
RFC 2598 DiffServ Expedited Forwarding (EF)
Ingress Rate Limiting

Security
IEEE 802.1X Port Based Network Access Control
RFC 1492 TACACS+
RFC 2138 RADIUS Authentication
RFC 2866 RADIUS Accounting
Access Control Lists (ACLs)
MAC Authentication
MAC Lockdown
MAC Lockout
Port Security
Secure Sockets Layer (SSL)
Web Authentication

Notes
When using mini-GBICs with this product, mini-GBICs with revision "B" or later (product number ends with the letter "B" or later, e.g., J4858B, J4859C) are required.

This product comes with a power supply clip adapter. The adapter dimensions are 1.7(d) x 10.7(w) x 3.8(h) in. (4.35 x 27.25 x 9.6 cm). The weight of the power supply clip adapter is .31 lb (.14 kg).